About Your Hosts
Captains Mark & Beth Farrar
Mark Farrar's journey in Alaska began in the early 1970s when he moved from California to work as a commercial King Crab fisherman. He fell in love with Alaska's natural beauty and abundant opportunities for adventure, and decided to make the move, building a one-room cabin for him and his soon-to-be wife, Beth. Many years have past since then, but their love and passion for Alaska has only grown stronger.
It was a life-long dream of theirs to share the Alaskan experience with fellow adventure-seekers and outdoor enthusiasts. Eagle's Wings Wilderness Retreat is that dream, come to life.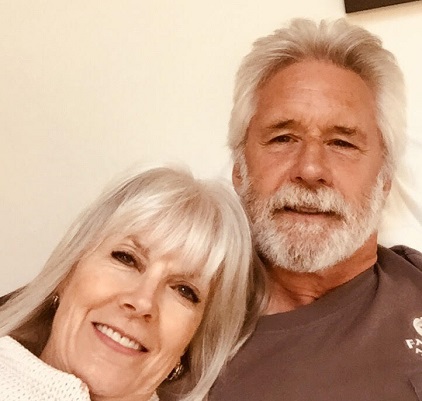 Meet the Team
Mark and Beth and their devoted staff would love to show you their remote corner of heaven and help you experience the many wonders of the Last Frontier: world class fishing, whale watching, eagles galore, celestial pink sunsets, and the amazing splendor of "God's Country".
This is Alaska... up close and personal for your family or group on a more intimate and financially reasonable basis.

Accomodations
...enjoy a delicious meal then relax after a full day of Alaska adventures!
From the moment you arrive at Eagle's Wings, you will be impressed with the welcoming atmosphere. The lodge has a warm, welcoming atmosphere where you'll feel right at home. We also have two separate cabins; each sleep up to 4 people (cabins available on a 1st to reserve basis). Call for details .
Our cooks will prepare both your breakfasts and lunches - whether you'll be going out fishing or staying on site. Dinner is served family style at either the indoor or outdoor dining table. You will also be served appetizers when you arrive home from your day of fishing or exploring, and there are always plenty of snacks available in the lodge throughout the day.
After a full day of activities, stretch out in the great room, the covered porch, The Landing, or in your private cabin. - all with spectacular views of the water and long-lasting Alaskan sunsets!
OR... mosey along the shore while watching salmon jumping, then warm up by the outdoor fire pit or in the cedar sauna.
OR... challenge someone to a game of horseshoes or darts. There are also many games and puzzles.
OR... take some time to be alone appreciating the surroundings at the "Landing."
At the end of the day... in one of our very comfortable beds... complete with your choice of pillow, and flannel or silky sheets.
You will be leaving Eagle's Wings with a multitude of spectacular memories of your Alaskan experience and a yearning to return. Eagle's Wings is not just a once in a lifetime experience, it's a tradition!