...not a once in a lifetime experience, a tradition!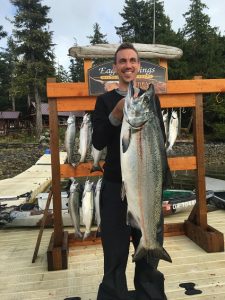 Eagle's Wings is located in the heart of Southeast Alaska's world class fishing grounds. Three days of guided saltwater fishing and one free day to freshwater fish, kayak or hike are included in your package. Additional guided saltwater fishing days are available for a fee. ADFG licensed & USCG credentialed.
For saltwater fishing you will be supplied with all the gear, tackle and bait you need. Should you choose to freshwater fish we have some supplies available for you, but it is best to request our "freshwater gear list" before you pack and head north to make sure you have the gear of your preference.
Part of your day's bounty can be served for your dinner within minutes of bringing it in. Otherwise, your catch will be cleaned, filleted, vacuum packed, frozen and boxed..... airline ready for the trip home.
Fishing licenses and King Salmon stamp are required. So we don't lose valuable fishing time, please obtain your license prior to arrival. Licenses are available from the Alaska Dept. of Fish and Game at www.adfg.state.ak.us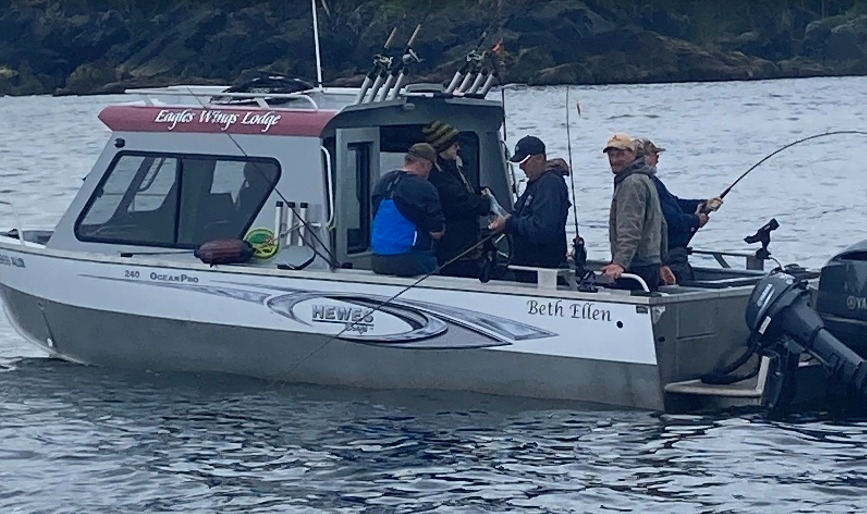 Activities
You will never run out of things to do at Eagle's Wings. However, there isn't a better place to be still and reflect on life.
The breathtaking views of the glassy water and scenery are incomparable. Relax on the sofa in the lodge and watch a whale swimming down the channel, or dozens of eagles in a herring feeding frenzy, or a river otter teaching her young to swim. Take time to catch up on your reading on our new deck where you are close to the shore or watch a magnificent sunset. It seems everywhere you turn, there is an amazing sight to behold.
If you are looking for more vigorous activities, you can hike Wadleigh Island. The interior of the island has an old logging road where you can enjoy panoramic vistas of the archipelago; or kayak to uninhabited Abbess Island just a 1/2 mile away, and spend some time exploring....there are beautiful gravel beaches, fields of (edible) wild sea asparagus, and a myriad of sea birds congregating along the shore.
Evenings can be spent gathered around the fire-pit/BBQ to enjoy the day's catch and share the day's adventures with one another. There are also horseshoes, darts, board games and books to read.
Whether you come alone or with a group, your time at Eagle's Wings will be geared to your desires.
Click here to view the current season dates and make your reservation request!
The two main fishing boats we use are:
24' Hewescraft Ocean Pro, powered by a single Yamaha 250 HP 4 stroke motor;
24' Skagit Orca, powered by twin Yamaha 150 HP 4 stroke motors
We fish 4 on deck.
Other boats we use for various other purposes are:
17' Fiberglass outboard;
14' Achilles rigid bottom inflatable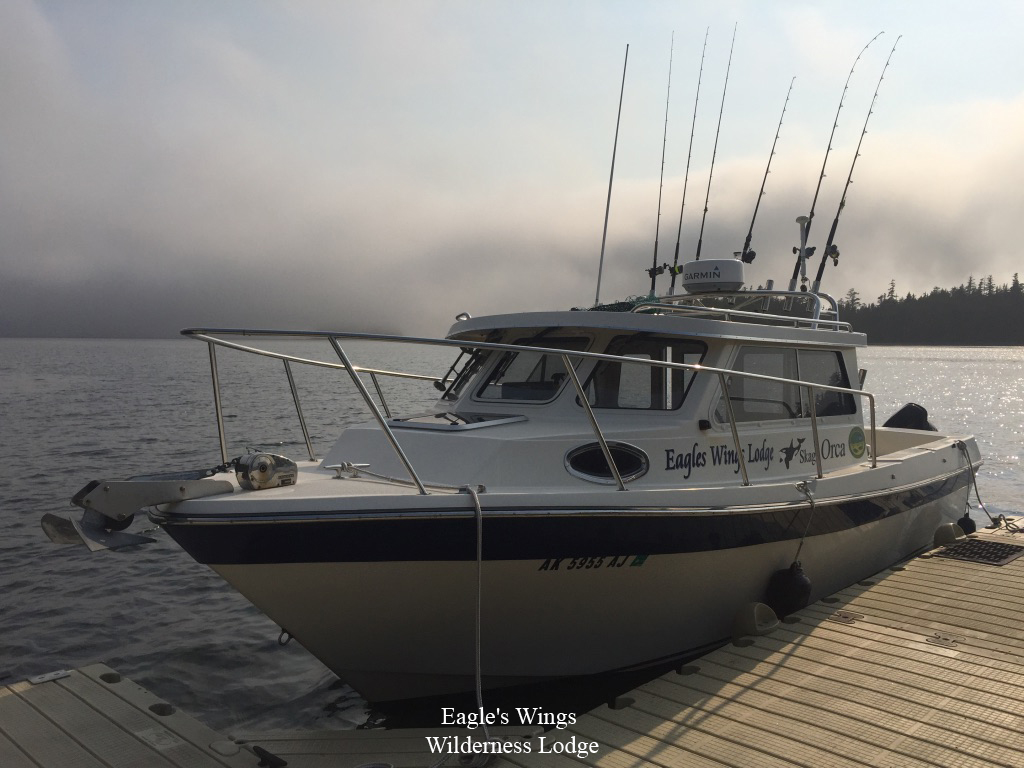 $3,500/per person for lodge accommodation.
(Rates subject to change)
May require double-occupancy with someone else from your group.
Additional fee for private cabin:  Call 800-987-7211 to reserve.
See Accommodations page or call for more details/availability.
5 nights/4 days fishing (3 days fully guided salt water fishing plus one day freshwater fishing, kayaking, hiking, or ?).
Arrive Sunday - Depart Friday
Wadleigh Island is in The Tongass National Forest, the largest intact temperate rainforest in the world! You must be prepared for the rain. It is important for you to be dry. You may be fishing, kayaking, hiking, or digging for clams (and eating lots of them, too!). Be sure to bring a couple pairs of durable outdoor shoes, and plenty of warm socks. We have rain gear and boots for fishing. Read more (pdf)...
Things to Do
Salmon & halibut fishing
Whale watching
Clamming
Bird watching
Kayaking
Hiking and Exploring